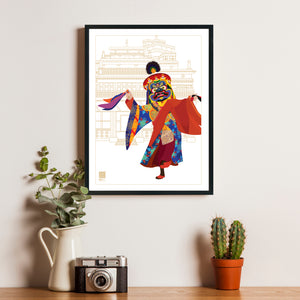 Sikkim Chaam Dance 1 - Art Print Only
Regular price
Rs. 499.00
Rs. 499.00
Unit price
per
Tax included.
Shipping
calculated at checkout.
The tiny state of Sikkim boasts of a great number of religious dances, also known as chaams. They are performed during festivals and occasions such as harvest and new year. Some of the dances that are performed are Rolchaam (cymbal dance), Tshamche (animal headed mask dance), Shyak (dance of horned animals), Namding (dance of winged animals), Shanag (black hat dance), Thoma Tshoglen (dance of wrathful deities) and Shawa chaam (stag dance) to name a few. The chaams essentially represent the victory of the good over evil. The dancers masquerade as gods, wearing colorful masks of dragon, animals, and birds, and are dressed in richly brocaded costumes. The sounds of cymbals, trumpets and religious chanting adds to the magical atmosphere of the celebrations. These colorful mystical dances leave both the pilgrims and the tourists spellbound with their charm.

Paper : 246/280 GSM Textured Paper
Printed on 18 inches x 12 inches paper approx.

Slight difference in colour from the visible product image is possible.
---
Share this Product
---